August 24, 2017 – CCBA meeting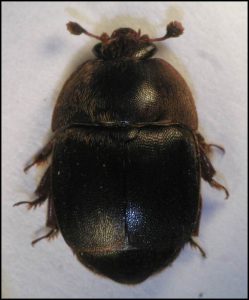 Mr. Phil Barfield, discussed the life cycle, identification, behavior, monitoring, and control of the small hive beetle in the hive.
July 27, 2017 – CCBA meeting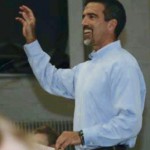 Mr. Will Hicks, our state apiary inspector, was our guest speaker. He spoke about integrated pest management (IPM) for varroa mite control.
June 22, 2017 – CCBA meeting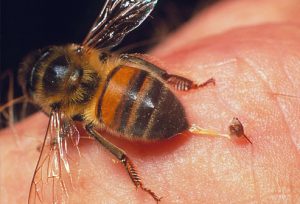 Mrs. Elizabeth Barfield, local beekeeper and club member, presented "Ouch! – Bee Stings" at our June meeting.  The basis of her talk was Dr. Marterre's article "Bee Stings – Immunology, Allergy, and Treatment"
May 25, 2017 – CCBA meeting
Mr. Randall Austin, NCSBA Master Beekeeper, presented "Liquid gold – honey harvesting, bottling, labeling requirements and marketing tips" at our May beekeeping meeting.
April 27, 2017 – CCBA meeting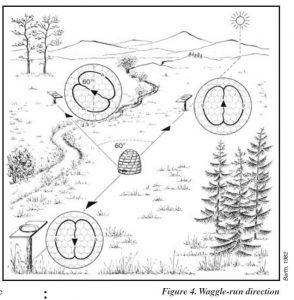 Mr. Phil Barfield, NCSBA Master Beekeeper, presented "Hunters and gatherers – Food and water sources for your bees" at our April meeting.
Mar 23, 2017 – CCBA meeting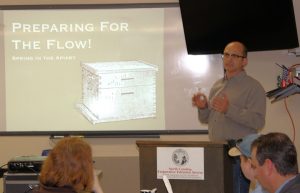 Mr. Todd Walker, NCSBA Master Beekeeper and Regional Director, presented "Let it flow – preparing for nectar flow" at our March beekeeping meeting. 
Mar 1, 2017 – CCBA beekeeping class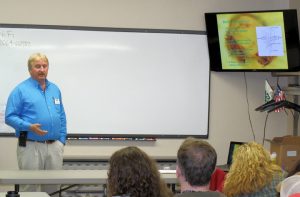 Mr. Joey Knight, Caswell County Extension Director, presented "Food and water for your bees" to our beekeeping class. 
Feb 23, 2017 – CCBA meeting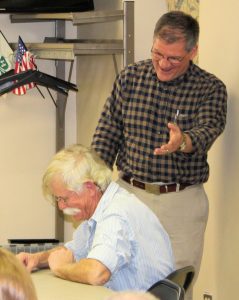 Mr. Pat Jones, NCDA&CS Pesticide Section, presented "Protecting the pollinator – Apiary registration and BeeCheck."  Mr. Don Hopkins, NCDA&CS Apiary Inspector, also attended to answer beekeepers questions.
Feb 22, 2017 – CCBA beekeeping class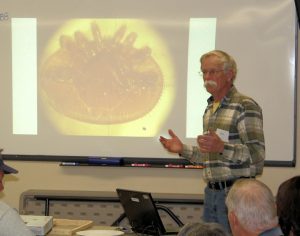 Mr. Don Hopkins, NCDA&CS Apiary Inspector, taught our beekeeping class about honey bees' enemies, pests, and diseases.
Jan 26, 2017 – CCBA meeting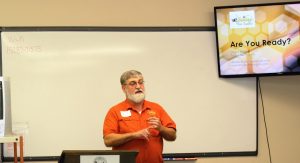 Mr. David Bailey, owner of Bailey Bee Supply, was our guest speaker at our first meeting and presented "Are you ready?  Bee season checklist."  He went over equipment we needed and some we didn't.
October 27, 2016 – CCBA meeting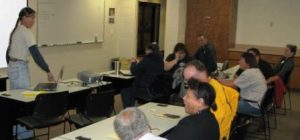 Ms. Nancy Ruppert was our guest speaker and presented "Beekeeping in Late Winter/Early Spring".  She stressed the importance of maintaining a strong, healthy colony by ensuring adequate food stores (pollen, honey/sugar) and controlling pests (mites, mice) at the right times of the year so that winter bees can have the best chance to make it till February.
Sept 22, 2016 – CCBA meeting
Larry and Martha Hupp were our speakers and presented "Winter Bee Feeding Methods with Recipes".  Recipes included one for fondant and one for sugar cakes.  Videos shown included Making/Giving Winter Sugar Patties W/Essential Oils To Our Honeybees and Make bee fondant correctly- Temperature, acid and time.
We elected our CCBA officers for 2017:
President                           Robert Neal
Vice-President                  Maureen Jarrell
Secretary/Treasurer          Nina Dabbs
Program Chair                  Phil Barfield
Sept 17, 2016 – Brightleaf Hoedown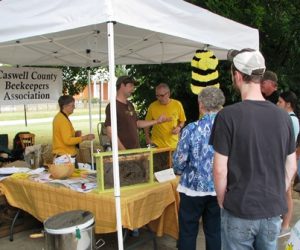 The Brightleaf Hoedown was held again this year on the Court Square in downtown Yanceyville.  Our club's booth was a tremendous success!  Our presence was recognized throughout as kids and adults buzzed around the Hoedown with bees painted on their face and sporting bee antenna.  The observation hives were a big hit and allowed our volunteers to engage visitors and educate the public about honey bees and beekeeping.  Several visitors are interested in becoming beekeepers and have signed up for our course beginning in January.  Our club made a positive impact on our community.  See our Facebook page for more photos.
August 25, 2016 – CCBA meeting
Mr. Patrick Ferrer and Mr. Mark Bennett from Dadant & Sons in Chatham, VA discussed Varroa mite control and various treatments and brought related products to show.
July 28, 2016 – CCBA meeting
Mr. Robert Neal, well-known local beekeeper with many years of experience, a beekeeping instructor, a CCBA founder, and our CCBA past president presented "The Honey Flow is Over–What to Do Next".
July 7-9, 2016 – NCSBA summer conference
The NCSBA summer conference was held July 7-9 in Hickory, NC and hosted by the Catawba Valley Beekeepers. Presenters included Dr. Marion Ellis, Jeff Berta, Dr. Hongmeill Byarlay, Dr. Vanessa Corby-Harris, and others.  The topics focused on honey bee health and nutrition.  Varroa mites continue to be the number one threat to bee health.
June 23, 2016 – CCBA meeting
Mr. Joe Cobb and Mr. George Williamson, local area beekeepers and fellow club members discussed "Making Your Own Queens" and provided valuable information and lessons learned from their beekeeping experience over the past years.
June 11, 2016 – CCBA extraction field day

We met at Larry and Martha's honey house in the cool of the shade and discussed methods and showed equipment used to remove frames of honey from hives (fume board, Bee-quick, brush); demonstrated uncapping frames of honey by using a hot knife, a roller uncapper, and a cappings scratcher; discussed and showed extraction equipment (uncapping tank, extractor, collection bucket, filter/strainer).   Cheryl McCauley showed her flow hive and explained how it works.
May 26 – CCBA meeting
Making Nucs was presented by Todd Walker, President of Person County Beekeepers Association, Master Beekeeper, and our NCSBA Piedmont Regional Director.
April 28 – CCBA meeting
"Know Thy Enemy" – Varroa Mites, Their History, Biology and Treatment Options was presented by Randall Austin, Master Beekeeper, Orange County Beekeepers Association
March 24 – CCBA meeting
"Free" Bees – Collecting Swarms was presented by Phil Barfield