December 16, 2017 – Introduction to Beekeeping
The Caswell County Beekeepers Association will hold a talk on Saturday afternoon, Dec 16,  from 2PM to 4PM about honey bees and what it takes to get into beekeeping.  The talk is free and open to all.  Please join us in the basement of the Agriculture Building next to the Historic Courthouse in downtown Yanceyville.  Click on Directions for a map.
January 10 to March 17, 2018 – 9-week Beginning Beekeeping Course

See Bee School for more information on topic, schedule, field day, cost, and registration.
March 1-3, 2018 – NCSBA Spring Conference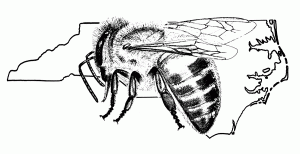 Join the beekeepers of the NCSBA down east in the historic district of New Bern for a three day meeting that features renowned speakers, educational workshops, major vendors of the region and much more.  See https://www.ncbeekeepers.org/education/statewide-conferences/2018-ncsba-spring-conference.